Glory to Jesus Christ!
We are the Easter people and hallelujah is our song!
Pope St. John Paul II
Listen to the Annunciation Choir: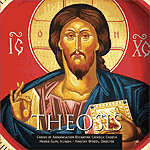 The above song and many more can be heard on our Theosis CD.

See full playlist and other details
Join us for our latest Knowledge and Prayer Series: In Vitro Fertilization and Surrogate Motherhood: what the Church really thinks. April 21st at 7:00 p.m. Download flyer
Beautiful aerial video of the Church done by Robo Aerial
Now taking orders for our homemade nut rolls (potica) $20. Call: 708-645-0241.