Annunciation parish has a mixed voice choir and a male choir. These choirs together with five parish cantors share the responsibility of leading the Divine praises at all Liturgical services. For cantor training or to join the choirs call: (708) 645-0241
Choir rehearsals are held on Sundays at Noon following the Divine Liturgy
The choirs and cantors of Annunciation parish singing the transcendent ancient music of the Byzantine Catholic Church which is heard on our radio program, "Light of the East Radio," can now be heard on a newly released CD, THEOSIS. 
Hear a sample now:

Or if you prefer simply make out a check to Annunciation Church for $15, which includes shipping and handling, and mail it with your return address to:
Annunciation Church
14610 Will Cook Rd.
Homer Glen, IL. 60491
You can also contact us by email or by calling:708-645-0241.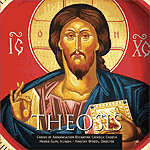 THEOSIS PLAYLIST:
01 By The Waters Of Babylon
02 Jesus Prayer
03 Hymn Of Incarnation
04 Alleluia
05 Cherubic Hymn
06 Cherubic Hymn #7
07 Hymn At Entrance For Prescantfied Liturgy
08 Holy Holy
09 Our Father
10 Lord's Prayer
11 Our Father
12 Receive The Body Of Christ
13 Da Ispolnatsja (May Our Lips Be Filled)
14 Znami Boh (God Is With Us)
15 The Great Canon Of St. Andrew Of Crete Ode 1, Verse 1
16 The Great Canon Of St. Andrew Of Crete Ode 2, Verse 1
17 The Great Canon Of St. Andrew Of Crete Ode 3, Verse 1
18 The Great Canon Of St. Andrew Of Crete Ode 4, Verse 1
19 O Joyful Light
20 Bohorodice Divo
21 The Grieving Mother
22 Rejoice O Virgin
23 To Thy Patronage
24 God Grant Them Many Years