Saturday, December 2nd, 2017 – 2pm to 6pm
At Annunciation Byzantine Catholic Church in Homer Glen, IL the celebration of the Feast of St. Nicholas, which occurs on December 6th each year, is a venerable tradition. Annunciation parish also has a special reverence for the natural prairie lands of Illinois.
In the spirit of the season of gift and joy, Annunciation parish would like to share the gifts of our St. Nicholas tradition and our prairie in our 3rd Annual "Christmas on the Prairie" event. Participants will have an opportunity to learn about the true story of the original St. Nicholas and what Christmas on the prairie might have been like for the early settlers.
This indoor/outdoor family event will take place on the Annunciation's rolling ten acres of restored prairie on Saturday, December 2nd from 2pm to 6pm.  
Discover the real story of St. Nicholas on the prairie paths
Frontier era Christmas crafts for children
Experience the mystical beauty of a Byzantine Church
Homemade Christmas bake sale items
Visit with St. Nicholas and get a ride on his horse drawn carriage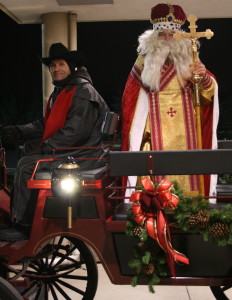 Click here to see what Zeon, the parish dog, has to say about this event.